Termite Inspection in Melbourne & Victoria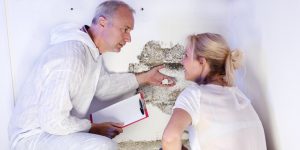 Also known as white ants, termites are a common problem in Melbourne, with an infestation able to silently destroy your home. Fortunately, Fumapest Termite & Pest Control can provide termite inspection services for homes and businesses looking to prevent the devastating damage caused by these pests.
We specialise in:
Termite / white ant inspection
Prevention methods, including barriers and pre-construction treatments
Eradication and removal
The Australian Standard AS:3660 recommends that a termite inspection be carried out no less than every 12 months. If you're wondering "where can I find a company to carry out a termite inspection near me?", turn to Fumapest. Our termite specialists can provide a regular termite check with a comprehensive termite inspection process to ensure your building is free of termites and other problematic pests.
Why Choose Fumapest for a Termite Inspection?
Our termite inspections are thorough visual inspections which cover accessible internal and external areas of the property using termite-detection equipment such as FLIR E6 Thermal Imaging, Termatrac T3i, Tramex Plus Moisture Meter, Tap Sounding Rod, and Extech Infra Red techniques.
Other reasons to choose us include:
Our inspectors are fully qualified and insured, and offer expertise unmatched by our competitors
We use state-of-the-art technology, such as the FLIR E6 thermal imaging camera and Termatrac T3i, to locate and establish the extent of infestations
Our termite inspection services are backed by over 35 years of experience
We pride ourselves on our low termite inspections cost
All of our team members regularly attend accredited pest control conferences and seminars to ensure they are informed of the industry's latest developments and technologies
We have expert knowledge of termites
We provide comprehensive reports after each termite inspection
We can provide yearly termite inspections as well as a termite inspection for home purchase
The Termite Inspection Process
In addition to termite damage, our pest inspection technicians are constantly looking for things that could cause problems, including:
Signs of poor drainage and ventilation
Leaking downpipes and guttering
Broken plumbing
Mould
Rot
Landscaping timbers that are susceptible to termite attack
Termite activity
Soil levels
A consultation will cover these potential risks and many more, with comprehensive termite inspection services to identify and detect any termite activity. A typical termite inspection of an average-size Melbourne home will take approximately 1-1.5 hours.
The Report
All of our termite inspection services are carried out according to Australian standards 3660.2-2000. You will also be provided with a written Visual Timber Pest Inspection & Report, in accordance with AS 4349.3. This will contain recommendations and quotes, providing you with the best solutions for your situation.
The termite inspection report will:
Cover any visual evidence of current and/or past timber pest activity
Identify any timber pests
Give you a thorough assessment of your property's vulnerability to timber pest attack
Provide recommendations for improving your property's surroundings
Give you a timber pest management plan (if necessary)
The termite / white ant inspection report will also cover all accessible areas of the building, including:
Building interior accessible timbers – skirting boards, architraves, door frames, window frames, timber flooring and finished timbers
Building exteriors
Roof voids
Subfloor
Garages, carport and outbuildings
Fences
Retaining walls
Gardens
Timber decking
Visual inspection of trees and stumps for potential live termite activity or workings
Frequently Asked Questions
When Should I Get an Inspection?
We recommend getting a termite inspection as soon as you notice signs of termites in or around the property. This will allow you to remove them as soon as possible and mitigate the damage, resulting in a lower repair bill.
How Often Should I Get My Property Inspected?
It's recommended that you organise termite inspection services at least once every 12 months. This can prevent infestations from flourishing and protect your property.
What Are the Signs of Termites?
Evidence of termite activity can include squeaky and buckling floorboards, loose tiles, jammed doors and windows, piles of discarded wings, droppings, and mud tubes.
Can Termites Go Away On Their Own?
No, they can't. Termites consume wood and will feed on your property for years until the damage becomes extreme and your safety is at risk. A termite check can identify these pests before the extent of damage becomes severe.
What Do Termite Inspections Cost?
Termite inspections cost between $250 and $350 for average-sized properties, and closer to $500 for larger properties.
Book a Termite Inspection Today
An astonishing one in three homes is susceptible to termites, causing millions of dollars of damage every year in Victoria alone. Even worse, termite damage isn't covered by most insurance policies.
A comprehensive termite inspection conducted by Fumapest Termite & Pest Control is the first step to ensure your home is safe from the devastating effects of termites. Call us on 1800 113 112 to speak with our friendly staff, or contact us online to receive a termite inspections cost estimate or arrange a termite check.