Commercial Pest Control in Melbourne & Victoria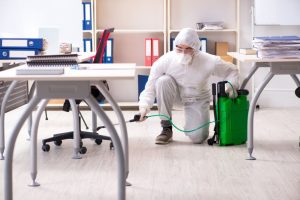 A healthy workplace makes for a happier workplace – and if there's one thing that makes for a healthier workplace, it's being pest-free. From cockroaches and mice to termites, ants and everything in between, pests can be responsible for a variety of illnesses and health issues. If these illnesses are spread amongst employees in the workplace, this can result in a downturn in productivity and loss of money, so it's best to nip an infestation in the bud as soon as possible. If you need fast and effective commercial pest control services in Melbourne, Latrobe Valley, Gippsland or East Gippsland, get in touch with the specialists at Fumapest Termite & Pest Control.
Why Choose Fumapest for Commercial Pest Control?
From the CBD to the suburbs and even the regional areas of Victoria, Fumapest Termite & Pest Control has been the first choice for schools, warehouses, hospitals, restaurants, nursing homes, cafes, offices, churches and factories looking for experienced commercial pest control companies. We're the preferred choice for many local businesses because:
We've been providing commercial pest control since 1985.
We provide a fast 24/7 response to ensure your pest problem is solved pronto.
We use only environmentally friendly products for our trusted pest control.
We provide free on-site inspections and quotations for commercial pest management and pest control.
Our experienced pest controllers are just as capable of working in a corporate office in the heart of Melbourne as they are in a suburban factory or workshop.
We boast a high overall success rate.
We're members of the Australian Environmental Pest Managers Association.
Our commercial pest control comes fully insured. We hold professional indemnity, public liability and workers compensation insurances, and we've never had to make a claim.
We carry out our commercial pest control services discreetly to avoid alarming your customers.
Enquire About Our Commercial Pest Control Today
In addition to providing commercial pest control services for Melbourne businesses of any size, Fumapest Termite & Pest Control has offices in Moe, Traralgon, Sale and Bairnsdale, enabling us to cover much of regional Victoria as well. If you find pests in your office or workshop, don't leave it for another day – get in touch with us now for fast, effective and trusted pest management and pest control. Call Fumapest on 1800 113 112, or get in touch with us online to learn more or request a free quote.