Residential Pest Control in Melbourne & Victoria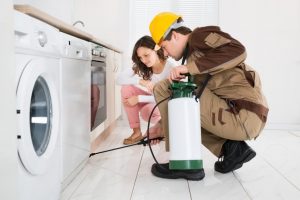 Your home is one of the biggest investments you'll ever make, if not the biggest, so protecting it is of the utmost importance. And as they say, your home is your castle, so you don't want anything to take over it. One of the biggest problems a house can face is a pest infestation. Not only can a bad infestation potentially cause damage to your home, but it can also bring in numerous illnesses and health problems that can affect you and your family. If you're detecting signs of infestation by common household pests and require residential pest control services, call the domestic pest control professionals at Fumapest Termite & Pest Control.
Why Choose Fumapest for Residential Pest Control?
Fumapest Termite & Pest Control has been the preferred choice for many homeowners looking for an affordable yet highly effective home pest control service. There are many reasons why we're a favoured choice:
A family-owned Australian business since 1985, we're one of the leading termite and pest control companies located in Melbourne. We take pride in providing the right advice, treatment and residential pest control services.
We use insecticide and rodenticide products that are not only environmentally friendly, but are also safe for you and your pets.
We boast a wealth of experience eradicating a vast range of pests, including termites, mice and rats, bees and wasps, cockroaches, bed bugs, fleas, spiders, ants, silverfish and many more.
Our domestic pest control services are fully insured for your peace of mind. We come to you with professional indemnity, public liability and workers compensation insurances.
We boast a high success rate for our previous household pest control
Our team consists of government licensed pest control technicians – Cert III and Cert IV Pest Managers.
We're a member of the Australian Environmental Pest Managers Association.
We're accredited termite and pest control specialists who offer service warranties on all residential pest control
With more than 35 years of service, Fumapest has NEVER had a recall on active termite treatments.
Contact the Domestic Pest Control Specialists Today
With offices not only in the Melbourne metropolitan area but also in regional areas of Victoria such as Moe, Sale, Traralgon and Bairnsdale, a Fumapest home pest control specialist is never too far away. When you discover unwanted pests in your home, discover the Fumapest difference. Call us on 1800 113 112 to learn more or obtain a free quote for our household pest control.